4K feature film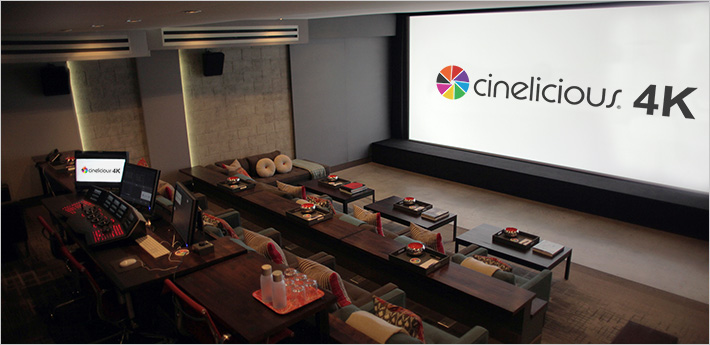 We love movies – new and old, big and small. Our up and coming artists have been been major contributors to independent film. We are continually leaning in to the bleeding edge to bring our clients the best picture technically and aesthetically possible and have just completed build out on our 4K DI Theater, one of the first of it's kind allowing realtime color grading while viewing True 4K resolution from 4K DLP projection.
Why 4K you ask? First is the movies… 4K it is the new standard being rapidly adopted by theater chains, including the 3 largest Regal, AMC and Cinemark. Second is the living room… TV manufactures are all producing 4K "Ultra HD" televisions for the home, and finally, because it is widely known that 35mm film has 4K resolution on the negative, something moviegoers have never seen. At Cinelicious, while we handle high-resolution digital cameras with ease, we are very excited about using our new HDR 4K Film Scanner to showcase gorgeous 35mm film at its true resolution, a beauty you likely have yet to behold.
This year, as you are in pre-production for your next feature and considering the F65, RED, Alexa or 35mm, we encourage you not to make the decision by looking at a spreadsheet. Instead, we invite you and your DP to stop and feast your eyes on the future of digital cinema.
We are currently offering Digital Intermediates at up to 4K resolution from 16mm, 35mm, all Digital Cameras and 3D. No matter what the format, our creative and technical teams will throw their passion and talent behind your picture.

CERTAIN WOMAN

DIR: Kelly Reichardt

DP: Christopher Blauvelt

CINELICIOUS: Final DI Color & Mastering

Sony Pictures Worldwide Acquisitions

BLOOD RANSOM

DIR: Francis dela Torre

DP: Francis dela Torre + Jasmin Kuhn

CINELICIOUS: Conform, Final DI Color + Mastering

TOO LATE

DIR: Dennis Hauck

DP: Bill Fernandez

CINELICIOUS: Final DI Film Scanning, Conform, Digital Film Restoration

ENTERTAINMENT

DIR: Rick Alverson

DP: Lorenzo Hagerman

CINELICIOUS: Final DI Color & Mastering

Magnolia Pictures

BOYHOOD

DIR:Justin Kelly

DP: Christopher Blauvelt

CINELICIOUS: Conform, Final DI Color + Mastering

BOYHOOD

DIR: Richard Linklater

DP: Lee Daniel + Shane F. Kelly | 35mm

CINELICIOUS: Final DI Film Scanning, Conform, Digital Film Restoration

BERLINALE 2014 | Silver Bear

PING PONG SUMMER

DIR: Michael Tully

DP: Wyatt Garfield | S16mm

CINELICIOUS: 2K Dailies, DI Film Scanning, Final DI Color + Mastering

SUNDANCE 2014

LOW DOWN

DIR: Jeff Preiss

DP: Christopher Blauvelt | S16mm

CINELICIOUS: Dailies, 2K DI Film Scanning

SUNDANCE 2014 | Best Cinematography

CESAR CHAVEZ

DIR: Diego Luna

DP: Enrique Chediak | 35mm

CINELICIOUS: Digital Film Restoration + Cleanup

LIONSGATE

PRINCE AVALANCHE

DIR David Gordon Green

DP Tim Orr | Arri Alexa

CINELICIOUS: Conform, Final DI Color + Mastering

SUNDANCE 2013

MAX ROSE

DIR: Daniel Noah

DP: Christopher Blauvelt | Arri Alexa

CINELICIOUS: Conform, Final DI Color + Mastering

CANNES 2013

TEXAS CHAINSAW 3D

DIR: John Luessenhop

DP: Anastas N. Michos | RED Epic

CINELICIOUS: 4K Archival Film Scanning + 4K Digital Restoration

LIONSGATE

THE MOMENT

DIR: Jane Weinstock

DP James Laxton | Arri Alexa

CINELICIOUS: Conform, Final DI Color + Mastering

TRIBECA 2013

SINISTER

DIR: Scott Derrickson

DP: Chris Norr | Arri Alexa + S8mm

CINELICIOUS: Super 8mm Final DI Scanning

SUMMIT ENTERTAINMENT

MARLEY

DIR: Kevin Macdonald

DP: Mike Eley, Alwin H. Küchler Wally Pfister | 5D, S16mm

CINELICIOUS: 4K Archival Film Scanning

MAGNOLIA PICTURES

SASSY PANTS

DIR: Coley Sohn

DP: Denis Maloney | S16mm

CINELICIOUS: Dailies, DI Final Color + Mastering

PHASE 4 FILMS

FROM THE HEAD

DIR: George Griffith

DP: Martin Matiasek | S16mm

CINELICIOUS: Dailies, DI Final Color + Mastering

BREAKING GLASS PICTURES