super 8mm & ultra 16mm

super 8mm
We support small format filmmakers and have become the go-to shop for feature film, commercial, fashion and music video DPs wanting the best out of Super 8mm. Our rare Spirit Datacine w/Super 8mm gate is creating beautiful images at a quality rarely seen from the Super 8mm format. We can transfer Super 8mm and Max8… to both HD and 2K ProRes or DPX files. We also occasionally package film, camera & transfer as a one-stop small format solution for unique artistic endeavors. Inquire within… or learn more below.

feature film
Super 8mm DI Scanning for the following Feature Films: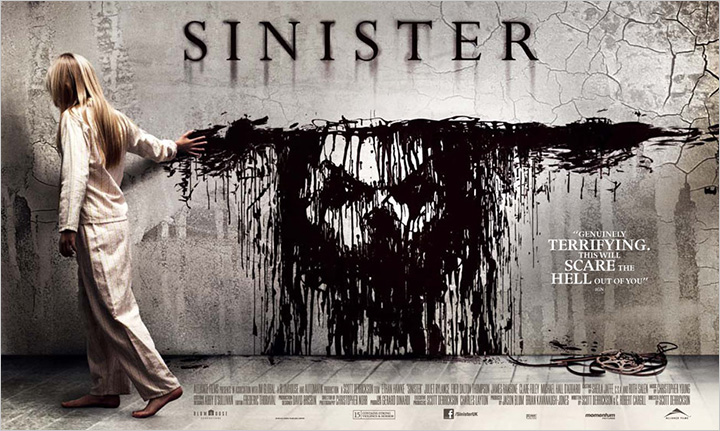 Super 8 – THE 8MM REVOLUTION (Blu-Ray Featurette)
Director: M. David Melvin @ Cinelicious Studio
Format: Super 8mm + 5D
Color: Steve Rodriguez
Titles / FX: Cinelicious
JJ Abrams, Stephen Spielberg, DP Larry Fong and others discuss the magic of the beloved Super 8mm format, and how it impacted their lives as filmmakers. Cinelicious EP Paul Korver demonstrates how Super 8 is still a thriving format today.
For the SUPER 8 Movie Cinelicious provided cameras + film & HD transfer packages for on-set Super 8mm and 16mm production. Cinelicious Studio Creative Director M. David Melvin directed all Blu-Ray content.

fashion advertising
Witchery – THE JOURNEY
Director: Kiku Ohe
Format: Max 8mm
Color: Steve Rodriguez
Super 8mm + Supermodel = Some of the sexiest Super 8mm online. Witchery's Spring / Summer campaign features a gorgeous Super 8mm transfer by Steve Rodriguez and stunning Supermodel Elyse Taylor frolicking topless on the dunes of Australia. Not to miss.

music video
Bleached – SEARCHING THROUGH THE PAST
Directors: Molly Schiot & Beau Leon
Format: Super 8mm, 16mm, 35mm
Edit: Sean Fazende @ Beast
Color: Beau Leon
Punk Rock pretties BLEACHED new single is climbing charts. Cinelicious provided film, processing, cameras and 2K transfers for this collaboration between fêted colorist Beau Leon and talented director/artist Molly Schiot.

super 8 weddings / lifestyle
Living Cinema – CALIFORNIA VINTAGE SUPER 8 WEDDING
Director: Curtis Heyne @
Living Cinema
Format: Super 8mm
Color: Steve Rodriguez
Curtis Heyne has been a loyal client since the "garage days" at Cinelicious. His lifestyle & wedding work has him traveling the world on "commissioned" art film projects he shoots on Super 8 or Ultra 16mm. Check back later as we'll featuring exceptional work from our growing list of talented Event Filmmaker clients who are putting out some stellar documentary and lifestyle work on Super 8mm and Ultra 16mm.


ultra 16mm
Great news for those seeking a true widescreen 16mm image, but can't afford to buy/rent a Super 16mm camera. Ultra 16mm is here!!! The Cinelicious Kitchen has cooked up a proven Ultra 16mm workflow from acquisition through post, bringing the cost of ownership of a widescreen 16mm camera from over $10,000 to under $2,000. We designed and implemented an Ultra 16mm gate for our URSA Diamond and Spirit Datacine, and now with the Scanity we are offering full 1.85 at up to true 4K resolution from Ultra 16mm film. We have a list of labs we work with that can process Ultra 16mm without scratching in the perf area.
What is Ultra 16mm?
Ultra 16mm is a native widescreen 16mm format created by widening the camera gate to the right AND left of the image which results in a 1:85 widescreen image without having go through the costly process of re-centering the lens. We're not saying it's better than Super 16mm… just a lesser priced alternative.
Check it out!

SPACE
SPACE
Spirit Datacine w/Ultra 16mm Gate to HD:
Ralph Lauren – WIMBLEDON
Director: Greg Brunkalla @ LEGS
Format: Ultra 16mm Tri-X
Why Should I Care?
These days, most people want to see their project in HD widescreen. If you can't afford a $10,000 – $75,000 Super 16mm camera, this means you're going to be stuck either shooting video, or using an older 4:3 (1.33) super 8mm or regular 16mm film camera and having to push in during the telecine to extract a 16:9 (1.78) image out of the 4:3 frame. This decreases the effective resolution of your film stock, making it look grainier than the format was intended. The Max 8mm format tried to address this, but only increased the native aspect of Super 8mm from 1.33 to 1.50. With Ultra 16mm… you actually go from 1.37 to 1.85 native resolution, which maximizes precious negative resolution for HD transfers. The following chart shows why Ultra 16mm preserves precious negative… as well as precious coin.
SPACE
SPACE
Effects of HD Telecine on Small Gauge Film Resolution:
| | | | | | | |
| --- | --- | --- | --- | --- | --- | --- |
| Film Format | Native Aspect Ratio | Native Dimentions (mm) | Native Resolution (sq mm) | Resolution After 16×9 Transfer (sq mm) | Resolution "Lost in Transferation" | Minimum Cost of Ownership |
| Regular 8mm | 1.32 : 1 | 4.88 x 3.68 | 18 | 13 | 27% | $50 |
| Super 8mm | 1.33 : 1 | 5.63 x 4.22 | 24 | 18 | 25% | $100 |
| Max 8mm | 1.50 : 1 | 6.35 x 4.22 | 27 | 23 | 15% | $3,000 (Pro8mm) |
| 16mm | 1.37 : 1 | 10.26 x 7.49 | 77 | 59 | 18% | $1,250 |
| Ultra 16mm | 1.89 : 1 | 11.80 x 6.25 | 74 | 70 | 5% | $2,000 |
| Super 16mm | 1.66 : 1 | 12.42 x 7.49 | 93 | 87 | 6% | $10,000 |
*Format info courtesy Wikipedia's List of Film Formats.
SPACE
SPACE
Ultra 16mm Camera Conversion
We recommend Bernie O'Doherty at Super 16mm Inc for all Ultra 16mm modifications (see camera list below). We also have a small fleet of 4 Ultra 16mm Scoopics which we rent for $200/day if you want to get your feet wet with the Ultra 16mm format.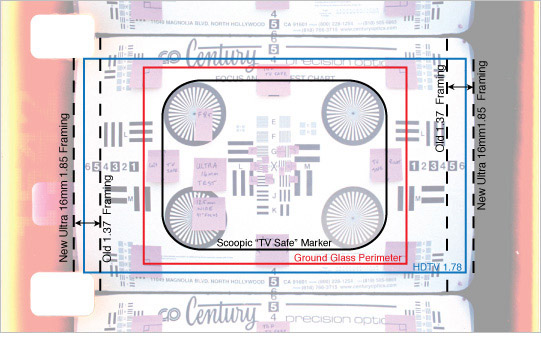 Still Frame from Ultra 16mm Canon Scoopic. Image was intentionally faded to highlight framing lines.
SPACE
SPACE
Good Candidates for Ultra 16mm Conversion
Here are a list of 16mm cameras that would be cost prohibitive to modify to Super 16mm… making them great candidates for an accessibly priced Ultra 16mm conversion.
Arri BL, S, M
Beaulieu R16
Bolex H-16, Rex 4, 5
Canon Scoopic
Cine Kodak K100
CP Gizmo, 16A, 16R
Éclair
Kinor 16mm
Konvas 16mm
Krasnagorsk K3