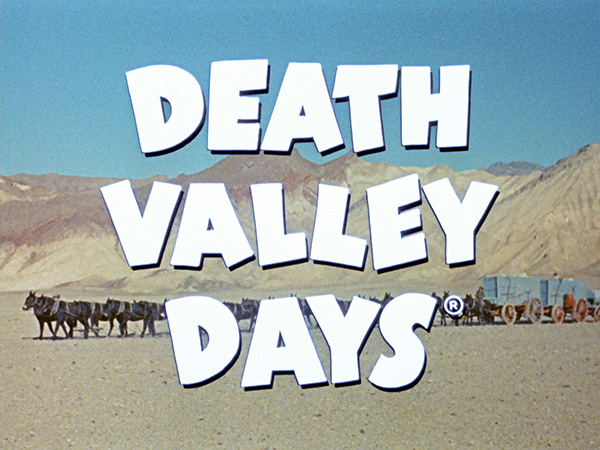 Death Valley Days Restored Title Card
Picture and Sound Restoration:
Using post tools and techniques to preserve historic work.
By Christine Bunish
LOS ANGELES, November 2013 –
[Death Valley Days Excerpt – NOTE – We recommend widening your browser window as much as possible to view the below example images at highest resolution]
TV series are also candidates for restoration. Cinelicious (www.cinelicious.tv), in Hollywood and Santa Monica, is restoring 458 half-hour episodes of Death Valley Days, the syndicated western series, which aired from 1952-1970 and was introduced by a number of iconic western figures, including Ronald Reagan (1964-1965). The show was sponsored by US Borax Company, and Cinelicious was tasked by its multinational corporate parent, Rio Tinto, with preserving the series' legacy.
Steve Wystrach, who manages the US Borax Film Archives and is supervising the restoration at Cinelicious, was hired in 2005 to help locate the elements. Most of the film
was stored in sub-standard vaults; prior to that it had been in one of the US Borax Company's old mine sites. Wystrach moved everything to the Hollywood Vaults, just blocks from Cinelicious.
At this point, Rio Tinto has no plans to market and distribute the series, so the restoration is "very much about their corporate legacy and the series' important part in television history," Wystrach says. "It's also about American history, since every episode is based on a factual event."
During its close to two decades on the air "the show used a lot of different film formats," says Cinelicious managing director and founding partner, Paul Korver. "There was 16mm ECO color, 35mm color negative, and black and white. Some vendors proposed making a new print from the A-B original camera negatives, but we always strive to work from original camera elements because that's where the gold is. People don't realize how much information is lost when film is photochemically duplicated and printed. And how much can be gained from a digital intermediate restoration process."

16mm Photochemical Generation Loss

35mm Photochemical Generation Loss
The company is currently working on an initial batch of 65 shows, all color episodes from the series' later years. Cinelicious sought the 16mm A-B ECO original camera positives and found them in the archived shows. "We'd like to have first-generation elements for every episode but some shows are incomplete and we have to use second generation elements," says Korver.
The Digital Film Technology Scanity 4K film scanner is tailor-made for the project offering a broad depth of field and a wide dynamic range."With archival films, you're often dealing with spliced film; other scanners don't hold focus over splice bumps, but due to its deeper depth of field, the Scanity's frames are always in focus," Korver explains.

Focus loss over splices – Others vs. Scanity
Scanity's IR channel helps with Death Valley Days' color episodes, addressing dirt and defects on top of the film as well as scratches in the film in a "precise way that's faster and more efficient " than other platforms.
Cracking effects that Korver refers to as "spider webbing" are a particular problem for the series. " I haven't seen this much spider webbing before," Korver admits. " In certain episodes, it's been a big challenge." Cinelicious uses the Scanity's IR channel dirt matte, in conjunction with Pixel Farm's PFClean and Digital Vision's Phoenix Refine, to define the cracks and repair them.

Example of "Spider Webbing" Before and After Restoration
Every episode requires a lot of human intervention, according to Korver. "I haven't seen an automated approach that achieves a beautiful, remastered look. You always need a person- an artist with a discerning eye. We do all the work in-house; nothing is offshored."
Cinelicious has "great colorists" working on the show as well. "Some episodes have a broad variance of color:" he notes. "Some from the original camera positive have no timing baked in at all. It takes an experienced colorist to produce an image that's period accurate."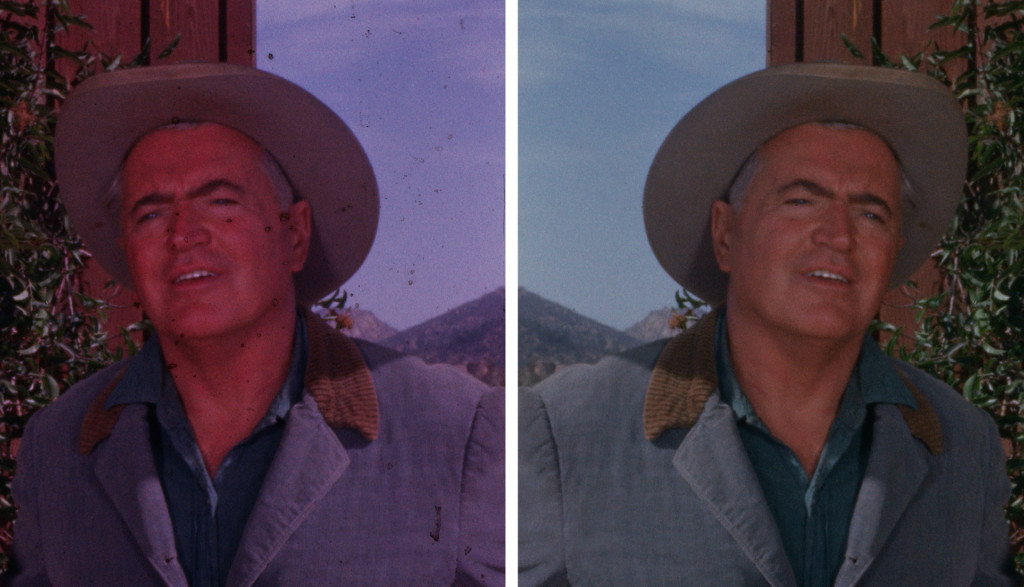 Before and After Color Grading and Restoration
The company is also performing the series' audio restoration; it's capable of scanning any film-audio format, including magnetic and optical S8mm. 16mm and 35mm, and full-coat multitrack, including Dolby. For Death Valley Days, though, "some 16mm has been 1/4-inch magnetic with the unique Ryder sync, which Audio Mechanics handled for us," Korver says. "The 35mm episodes mostly have no mag elements, so we're scanning the 35mm track negative elements here, doing a noise reduction pass, addressing clicks and pops as needed, and making sure the levels are legal."
Cinelicious recently invested in a Lasergraphics ScanStation 2K film scanner for 8mm, S8mm and 9.5mm formats. Korver hopes that platfonm will extend restoration work to include historical documentaries and films by important experimental artists. "The industry is at the cusp of doing restoration more cost-effectively," he says, "although some rights holders still don't recognize that. It would be tragic if they don't preserve what they have."